[2015 UPDATE!]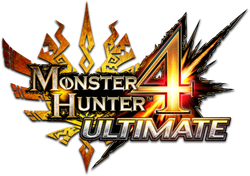 Monster Hunter 4 Ultimate is right around the corner; Releasing
February 13th
in western regions.
(There's a demo available on the eShop, so give it a DL!)
Now unlike the 3DS version of MH3U, 4U will have online play, so I hope SJ Hunters are reading to roll out and take down some monsters once the game's dropped and we've knocked out some story stuff!
So without further ado; FALL IN, HUNTERS! List those Friend Codes, and make sure to announce if you add anyone/everyone so people can add you back!
Feel free to list your NNID if you have the Wii U version of MH3U!
Once everyone's all added up, you can organize your hunting sessions in this thread, via PM, or by messaging on Steam!
[Afrohawkman]
3DS Friend Code:
0259-0380-8157
Nintendo Network ID:
Afrohawk
[ApaFox]
3DS Friend Code:
3050-7833-2510
[HalfAssedChaos]
3DS Friend Code:
5241-2620-0999
[Hunterkirizaki]
3DS Friend Code:
3711-9301-1215
[Seven Rain]
3DS Friend Code:
3411-0990-8193
Nintendo Network ID:
SevenRain
And remember, be chill! This is MonHun, and while some players get mad over any imperfection in a hunt, remember to laugh if your buddies accidentally launch you or blow you up, and don't pass judgement on people who cart! Some people might have their annoyances and peeves, but hunting with The Party Gang means no negative vibes!
Another note - If you're hunting with me, find a safe area and hop over to Steam chat to discuss abandoning if you feel you aren't up to snuff on a hunt.
Sometimes you might want to abandon while others would rather stay, and I
personally
wouldn't want you to abandon unless you really don't want to waste your items or wait around for the hunt to end.
I'd much rather have a friend AFK at the base camp or gather resources/materials somewhere else safe while others finish the fight so everyone can still get some rewards for coming along, even if they take their leave of the fight itself! Don't feel insecure about discussing a course of action if you really think you'll be more of a detriment than helpful, though even if you triple cart you can still learn and improve even a little bit, so don't be afraid to fight against the odds, either!
*EDIT*
Everyone should check out Gaijin Hunter's vids.
They have fantastic tutorials on all of the weapons that might even teach you a thing or two about weps you thought you knew everything about.
Whether you're new to MH, looking for a new weapon to try out but don't want to rush out without knowing how to use it, or just want to know everything there is to know about your weapon(s) of choice, give some of the vids a watch!
There's also a playlist of other tips and guides besides weapons that might be worth checking out!
And remember to check out the

It's an invaluable resource for any hunter, though for MH3U the
MH3G Dex
is unbeatable.
*EDIT*
Speaking of the wiki, here're some Monster count comparisons for 3U and Gen 4:
Git fukken hype.
*EDIT*
While dishing out some unsolicited info/advice in the thread I figured some stuff would be good to add to the front page;
-
FAILING QUESTS!
When you get KO'd it's called "
carting
" and getting KO'd three times in a quest is called "
triple carting
" and causes you to fail the quest. You walk away with nothing and waste any items used on the quest.
(In multiplayer you have three carts

between

everyone, so even if

you

don't get KO'd, you'll still fail if other people go down too many times!)
You also fail if you run out the clock, but that should be even more obvious.
-
ABANDONING QUESTS!
Now if you
abandon
a quest, you essentially reset everything to before the quest. All of your items revert to what you had before starting, so abandoning a quest isn't a bad option if you feel you can't make it in time or if you've carted twice and aren't confident you can beat it. Especially early on when items are scarce and valuable.
Abandoning a quest basically only costs you time and the Zenny you spent taking on the quest. There are times when it's worth failing, though. Like if you find something rare while mining or carving a lopped-off tail.
When abandoning a multiplayer hunt you simply leave, and the other players remain on the hunt unless they abandon as well.
Most folks try to be courteous and avoid abandoning a multiplayer quest even after two carts unless everyone is in agreement about it. If you're thinking about abandoning, hop over to Steam chat or whatever your means of communication is and discuss a course of action!
-
MOUNTING!
When someone mounts a monster, cease all attacks and wait. Use the chance to heal, eat, sharpen, set traps, etc. The time you have to attack a monster who's been knocked over by a successful mount is much better than the time you have to attack it while it's mounted and flailing around!
It's also worth noting that Mounting acts like a status ailment; In that each monster has it's own tolerance towards it that will increase with each mount. Supposedly the rate at which you can mount monsters is turned up in the demo as well, so it might not be very spammable in the real game. All the more reason to be careful not to interrupt it once someone hops on a monsters back!
-
IDEAL TIMES FOR ITEMS!
Monsters typically have three modes; Standard, Fatigued, and Raging. When Raging, they'll be more immune to things like traps, while when fatigued everything lasts a lot longer, so when fighting a monster that you know is going to take a while, wait until you see it drooling/panting/becoming sluggish in it's movements to trap for extra damage! Other stuff like Flash Bombs have their ideal times for use as well, they can help keep a raging monster a bit under control while it fights the stun instead of assaulting you relentlessly, and they serve to ground flying monsters like the Raths. A Flash Bomb in front of a flying monster will send it crashing to the ground.
-
DISPOSABLE EARPLUGS ARE AMAZING!
There's a new item called Disposable Earplugs that every set in the 4U demo has on hand. Use 'em. Eating one blocks one roar the next time your character hears one, and that roar time can grant you valuable time to get early hits on the monster or build up more of your Mount meter.
HAPPY HUNTING!
[____________]
I guess it's as good a time as any to start this thread.
Monster Hunter is a hardy series of action games that are all about gathering with fellow friends and hunters, wolfing down meals before running out to hunt down massive dinosaurs and beasts hell-bent on annihilating you, and carving materials out of these monsters in order to make new gear to take on stronger monsters with. It's a vicious cycle and a vicious game, ready and willing to drain hours upon hours of your time in exchange for the euphoric adventures of this wonderful series, all taking place in a fantastic fictional world not only inhabited by Monsters and Hunters, but the intelligent and ever-immortal cat folk known as Felynes, beautiful locales and towns as well as truckloads of charm.
The majority of the series has failed to reach western shores due to it's cult status over here compared to the immense popularity it's enjoyed in Japan, but Capcom has thankfully been able to trickle some key, (and amazing,) releases over here, such as the content-packed Freedom Unite for PSP, the gorgeous console entry Monster Hunter Tri for the Wii, and the upcoming Mosnter Hunter 3 Ultimate, a massive expansion to MH3(Tri) with tons of new and returning content on top of what Tri already had, as well as HD treatment and new gear designs for some stuff.
Returning monsters from older games, new subspecies of Tri's monsters as well as a new one here and there all join the party to give MH3U over twice as many marks to hunt and battle than Tri had.
Now then, this thread is for posting everything MH-related! Stories, opinions, meet-ups, FC's, hype, tips, RNG lamenting, favorite monsters and weapons, etc. etc.
I think the best way to start the thread off would be Tri players posting their FC's and anyone ready to report for Wii U MH3U duty in March to post here so we know who all we can expect to go hunting with when March rolls around~
Now I will say that MHTri was unfortunately region locked, meaning NA couldn't play with EU players, and there's a chance of MH3U being the same way,
(as well as the worst case scenario of MH3U having a subscription-based online service like the Japanese version of Tri, but I'm sure Capcom knows better than to do something like that especially after making Tri's online free in the west,)
so you may want to mentally prepare yourself to be shut off from hunting with some of your SJ homies should you get this game.
So yeah, who's getting MH3U on the Wii U?
And even though I know I'll have to fight the same stuff again when 3U comes out, I've been playing Tri again, so if anyone wants to do some early hunting with me instead of waiting until March, lemme know now so we can go kill stuff before I switch games again. I'm pretty sure I've already added any US SJers that play Tri, but I'll try to get around to posting my FC later all the same.
*EDIT*
I feel that this is front-page worthy to replace the bad news of region-locking; Come April 2013 the console version of MH3U
will no longer be region locked in the West.
A patch coming in April 2013 will make it possible for owners of the NA and EU versions of MH3U to hunt together online, as well as add Off-TV Play, allowing you to play the game from the Gamepad instead of the TV screen, should you wish to do so.
Now this is an April patch, so when the game launches these features won't yet be available. Take that into consideration if you're not in a terrible hurry to buy the game.