Plot
Wilson Kane wins a fortune and his future bride at a game of dice from the former pirate Balthasar. When he decides to go and get the girl, the pirate way, by kidnapping her, not only he finds out that she is more than a pirate could ever want from a wife... but that she has 4 identical twin sisters as well. This discovery hits him when his men, who were supposed to help him out, each kidnaps a different girl... and none of them gets the right one! But Wilson Kane wants the girl he had met and no one else! Luckily for him it will be the girl herself to solve his problem and put an end to his dilemma... a solution that will eventually fling her into a world of adventures on the Mediterranean sea.
The Pirate Balthasar is a romance/adventure comedy...
so far is more on the comedy side and it will remain mostly on the comedy side so it's enjoyable for both male and female readers - I hope.
The drawing style is a mix between animation and manga
that's because I work in animation and so my main imprinting is
James Baxter
! (it's the guy who did The road to Eldorado, Sinbad and the intro part to Enchanted - I love his drawing style although I am not even close LOL).
The chapter's covers are done in Illustrator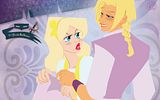 So they look sharp and bright but....
The actual pages are sepia color - with brush rendering - and some splashes of colors here an there on the watercolor side
I like funny, upbeat stories (I am a big fan of Wodehouse) and I think that romance could be honestly teased a bit... by brains. So far it has no mature content but it might have some in the future - although it will be still be a moment of comedy.
I try to upload every 10 days, I work so I do this in my spare time! I also keep a
a Blog about Mediterreanean Pirates, Piracy, Drawing, Books and everything that might be related to the subject of this story
[URL=http://thepiratebalthasar.blogspot.com[/URL]
Btw: Hi, this is Deda! I got here a few weeks ago but still haven't figured out my way around here - for example I read comments on my comic and sometimes I reply but I don't think I manage my replies to get posted, somehow, so forgive me if I didn't answer to your comments.
I also have problems posting around... every time I click on the hub buttons up here it saves and closes my post... I guess it doesn't like my Mac XDD.